Faculty Department:
Foundation Year
Faculty and Staff
Our team of working artists is here to help you succeed.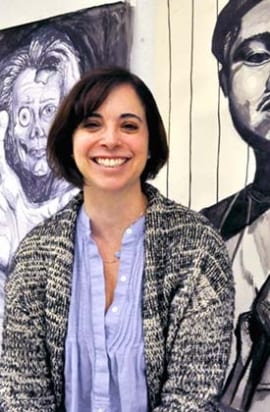 Rachel Bomze
Area Coordinator, Fine Arts and Foundations
Fine Arts, Foundation Year
Rachel Bomze, a painter originally from Texas, received her bachelor of arts degree in studio art with an emphasis in painting at Brandeis University. She earned her master of fine arts degree in painting from Tyler School of Art at Temple University in 2004 and was appointed area coordinator of Fine Arts and Foundations at DCAD in Fall 2016.
Rachel's own work centers on the in-between spaces. This occurs in the work where imagery hovers between the process of painting itself and a recollection of an image. In those in-between places, sometimes the work is reminiscent of weaving. Many times, the work recalls a landscape quality, like the light reflecting across the ripples in a body of water or the sensations of being enveloped by a landscape space as if in a field or underwater. Her work has been shown throughout the Pennsylvania and South Jersey region as well as in New York City.